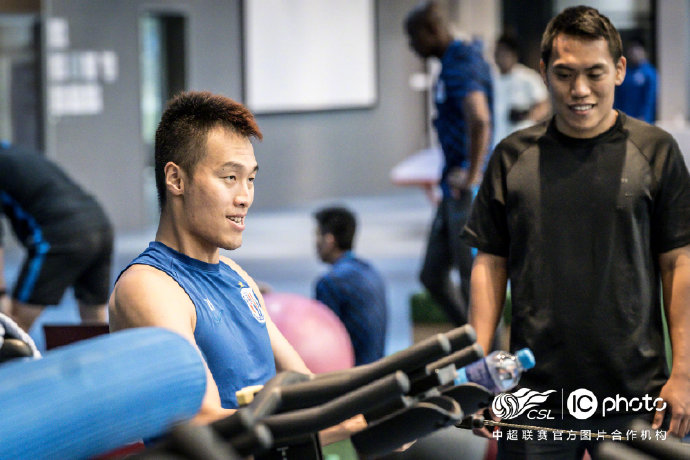 Tiger Fight, October 5, "Football" newspaper reported that Shanghai Shenhua coach Cui Kangxi revealed in an earlier interview that it is difficult for foreign aid Jin Jixi to catch up with the second stage of the Super League, but the AFC Champions League is very promising.
Tiger Fight,10月5日,《足球》报纸报道,上海申花教练崔康熙在较早的一次采访中透露,金援喜很难赶上中超联赛的第二阶段,但亚冠联赛却非常有希望。
According to reports, on October 3, Shenhua assembled at the Kangqiao base to prepare for the second stage of the Super League. New foreign aid Bolanos appeared. This is the first time he and the whole team practice together. Before that, he and his national teammate F Ma has been training at Cambridge Base.
据报道,10月3日,神华在康桥基地集会,为中超第二阶段做准备。新的外援博拉诺斯出现了。这是他和整个团队第一次一起练习。在此之前,他和他的国家队友F Ma曾在Cambridge Base训练。
After the first stage of the game, Shenhua will have a five-day holiday. On the 3rd, the team will regroup at the Kangqiao base. According to the plan, they will go to Suzhou on the 12th and play the first round against Shanghai SIPG on the 18th. There are still more than ten days of preparation.
在比赛的第一阶段之后,申花将有一个为期五天的假期。 3日,该团队将在康桥基地重组。根据计划,他们将在12日前往苏州,并在18日与上海SIPG进行首轮比赛。仍有十多天的准备时间。
Shenhua is very familiar with SIPG, but they have always been at a disadvantage.
神华公司对SIPG非常熟悉,但始终处于劣势。
"Shanghai SIPG is a very important and strong opponent. We were not very good in our previous matches, but now it seems that this is a very good opportunity." Coach Cui Kangxi said, "We must prove ourselves and let the outside world Seeing Shenhua's growth and progress, the next training is very important. Of course, the attitude of the players is equally important."
"上海SIPG是一个非常重要和强大的对手。在之前的比赛中我们表现不是很好,但是现在看来这是一个很好的机会。"崔康熙教练说:"我们必须证明自己,让外界看到申花的成长和进步,接下来的训练非常重要。当然,球员的态度也同样重要。"
In the first stage of the Chinese Super League, Shenhua suffered extensive injuries, which caused Cui Kangxi to be stretched out in the formation. In the last three rounds, Cao Yunding, Yu Hanchao, and Zhu Baojie all suffered injuries of varying degrees. Moreno has also been sitting. In the stands. However, in the training session on the 3rd, the injuries of several players improved and they participated in the training together.
在中国超级联赛的第一阶段,申花队遭受重伤,这导致崔康熙在编队中伸展。在最后三轮中,曹云鼎,于汉超和朱宝杰都受到了不同程度的伤害。莫雷诺也一直坐在那里。在看台上。但是,在3日的训练中,几名球员的受伤情况有所改善,他们一起参加了训练。
Cui Kangxi's training volume is not very large, basically jogging to recover. It is worth mentioning that,
崔康熙的训练量不是很大,基本上是慢跑恢复。值得一提的是,
Training with Mbia in the gym was Jin Xinyu, who suffered a stress fracture of the right tibia in the first round of Dalian. However, he only conducted simple training. "How Jin Xinyu's injury has recovered is still unclear and remains to be seen." Cui Kangxi said.
在体育馆与Mbia一起训练的是金新宇,他在大连第一轮比赛中右胫骨承受了压力性骨折。但是,他只进行了简单的培训。 "金新宇的伤势如何恢复还不清楚,还有待观察。"崔康熙说。
"There were many regrets in the first stage. After the foreign aid was injured, we encountered a lot of difficulties. Fortunately, our Chinese players are very hard-working, very tenacious, and have overcome many difficulties and persisted to the end." Cui Kangxi said, he hopes everyone Players can recover as soon as possible.
"第一阶段有很多遗憾。在外援受伤后,我们遇到了很多困难。幸运的是,我们的中国球员非常勤奋,非常顽强,克服了许多困难,一直坚持到最后。"崔康熙说,他希望每个球员都能早日康复。
Some injured people are temporarily unable to help the team, but the two newly joined foreign players are ready to "make a big fight."
一些受伤的人暂时无法为球队提供帮助,但是两名新加入的外国球员已经准备好"大打一场"。
Overtime in the first stage, F horse has already appeared and played two games, while another foreign aid, Bolaños, flew to Shanghai on September 12 and was lifted from isolation 14 days later.
在第一阶段的加时赛中,F马已经出现并参加了两场比赛,而另一名外援博拉尼奥斯(Bolaños)于9月12日飞往上海,并在14天后脱离隔离状态。
Bolaños' game is not systematic. His last appearance was on August 13, so for him, not only had to adapt to the Super League, but also to restore his own form; F horses also did not reach their best form. Therefore, this holiday, the two of them will practice at the Cambridge Base under the leadership of a physical fitness teacher. Although both are Ecuador internationals, neither of them will participate in the World Preliminaries in October.
博拉尼奥斯的游戏不是系统的。他的上一次出现是在8月13日,因此对他来说,不仅要适应超级联赛,还必须恢复自己的状态。 F马也未达到最佳状态。因此,这个假期,他们两个将在健身老师的带领下在剑桥大学基地练习。尽管他们都是厄瓜多尔国脚,但他们都不参加10月的世界预赛。
The reason for this is that they signed short-term contracts with Shenhua for a few months. Only by performing well can they win the renewal contract. If the requirements are not met, the two agents (the same person) will not receive commissions. , Will also bear 1/3 of the buyout cost. Among them, Bolaños didn't spend any money, and because F Horse has a two-year contract with the original club, the buyout cost is 1.5 million US dollars.
原因是他们与神华签订了几个月的短期合同。只有表现出色,他们才能赢得续约合同。如果不满足要求,则两个代理(同一个人)将不会获得佣金。 ,还将承担买断费用的1/3。其中,博拉尼奥斯没有花任何钱,而且由于F Horse与原俱乐部签有两年合同,因此买断费用为150万美元。
For the short appointment, Bolanos thinks it is an incentive, "I am very happy to join the big family of Shenhua. This is a new opportunity for my career and a new challenge. I hope to adjust to the best condition as soon as possible. Then, according to the coach's arrangement, I can use my best ability." Bolaños said, he firmly believes that he can recover quickly. "When I was quarantined in the hotel, I had basic physical training and returned to the court. In three or four days, I can recover to 100%."
对于短期任命,博拉诺斯认为这是一种激励,"我很高兴加入神华大家庭。这对我的职业生涯是一次新的机遇,也带来了新的挑战。我希望尽快适应最佳状态。然后,根据教练的安排,我可以发挥自己的最佳能力。"博拉尼奥斯说,他坚信自己可以早日康复。"当我在酒店被隔离时,我接受了基本的体育锻炼,然后回到了法庭。三到四天后,我可以康复到100%。"
Prior to this, Bolaños learned about his next opponent SIPG, "We have to compete with the same city teams with Oscars and Hulk. It is still a knockout game. Derby is what I like very much. This kind of game is more effective. Stimulate my desire to win."​​​​
在此之前,博拉尼奥斯了解了他的下一个对手SIPG,"我们必须与奥斯卡和绿巨人同一个城市球队竞争。仍然是淘汰赛。德比是我非常喜欢的东西。这种游戏更有效。激发我赢的欲望.``